It's the first of November. For writers around the world, it's the beginning of a big month: National Novel Writing Month. These writers commit to writing 50,000 words in one month which is essentially the first draft of a novel. While I'm not yet convinced I have a novel brewing inside of me, I do know that I like to write. I also know that I have been sorely lacking in the creative department over the last several years.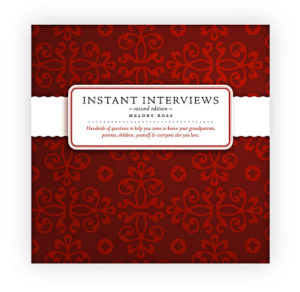 So I'm going to write a blog post a day in November. Some will be longer than others. Some will be about things going on currently. Some will be about personal history. For years now, I've been wanting to use this little book, Instant Interviews by Melody Ross, to get some stories down. (I can't even find the book in print anymore and the company who originally published it is out of business, so, yeah, I've been thinking about this for years.) Some posts may just be about being grateful since we have a whole month of gratefulness here in the U.S.
As a virtual assistant/project manager, I spend a lot of time writing for other people and in the "voice" of that particular organization. So it will be fun to a little more free and write maybe without so much pressure…maybe.
I just know I have some things/thoughts/theories to get out of me and I'm ready to begin.