Oh, what a night!
To celebrate the one year anniversary of Magic City Bookstore, Tulsa's newest independent bookstore (the only one if you don't count used bookstores), we went to an author discussion with Megan Mullaly and Nick Offerman!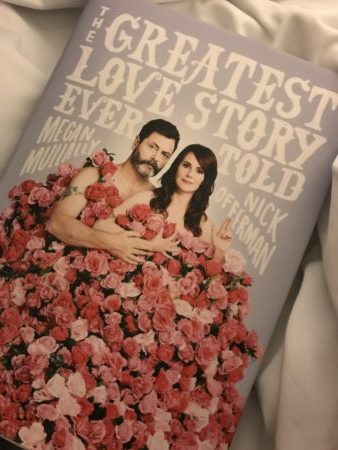 Their new book, The Greatest Love Story Ever Told, came out recently and it's a hoot! The night opened with the head of the Tulsa Literary Coalition introducing them and he actually said, "You may not think of Megan and Nick as literary, but we think you'll have fun." Well, Megan just ran away with that comment and it became a running joke throughout the evening, how they weren't "literary." (They are actually quite literary and literate.) So, that was pretty funny.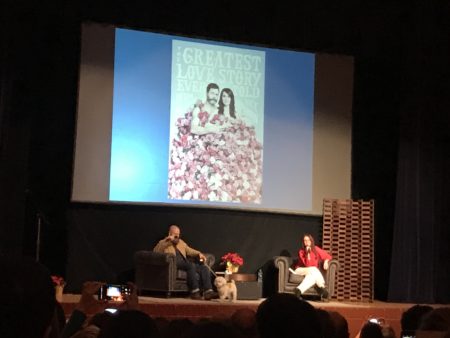 At one point, Megan spotted a guy in the crowd wearing a violet suit. Seriously, violet. It. Was. Bright. She convinced him to let Nick wear his jacket for the duration of the show. Nick put it on without even blinking an eye. (And then later went through the pockets!)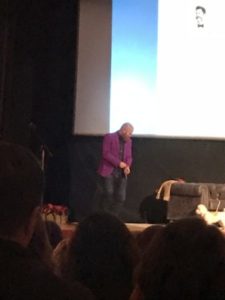 Their book is a fun read and different than most memoirs. Most of it's written in transcript form with essays and pictures sprinkled throughout. Nick explained that when they started the book, they picked topics and then hit record and talked about their thoughts on each topic. From there, the plan was to get transcripts of their conversations and then build each chapter from there. When they got the transcripts back, they realized the transcripts perfectly showed their chemistry and style. There was no reason to change it. I would have to agree.
Then they read the introduction to us and nailed it. So fun and so funny!
Takeaways:
"Momma shoots. Momma scores." (Nick kept saying this and it was driving Megan up a wall. LOL)
Megan is uber talented. She designed the whole book and staged the pictures throughout.
Tulsa kicks ass. (Nick said so.)
They sang "Oklahoma" for us!
A mention of Parks and Rec got the biggest cheer.
They brought their dog Clover who is adorable.
Wear the purple jacket.
There is way more than I can list here…
I took Ethan with me and his review was, "They're real people. We need more people like them in the world."
I can't think of a better compliment.